The 50 nautical miles  Falken Sette Giugno Pozzallo Cruise, now in its 8th edition, will once again be organised by the Malta Cruising Club with the collaboration of the Pozzallo section of the Lega Navale Italiana and held under the Patronage of the Comune of Pozzallo.
This year the popular event i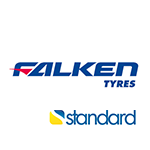 s being held between Friday 5th and Monday 8th June 2020.   Please take note of the dates! We will issue a full programme later on at the beginning of May.
The sponsorship was finalised during a visit to Malta by Fabrizio Manfredi, Sales Support Manager for Italy and Malta, of Falken Tyre Europe. Also present at the sponsorship agreement meeting was Johann J. Cuschieri, Director of Standard Group, Malta agents for Falken Tyres.