Club members, Len & Mary Nugent have been held up in Florida (USA) during the Coronavirus pandemic.  Len put the lockdown period to good use by writing a book on his life.  He writes:
"As I sit here writing this book, in the Sunshine State of Florida, in the middle of a lockdown because of the Covid-19 pandemic, I can't help thinking about how the world has changed since I ran around the streets of Belfast as a kid all those years ago.
And then I think about how I headed to the UK and survived as a groundworker before starting a one-man band construction business after many years of hard work. 
And about how this one-man humble start-up grew into a multi-million-pound group of companies operating in the Southeast of England.
Writing this book has not been easy, but I had a lot of encouragement from my friends and family, and having made many mistakes and learnt many lessons the hard way over the years, I wanted to show any young guys just starting off their business careers that anything is possible.
If this guy can do it, so can you.
I really hope you enjoy this book. I've spent many long days and nights these last few months labouring over a keyboard. The experience has been a great learning curve.
If one person learns anything from my story, this book will have been a success."
If you are interested in buying Len & Mary's book, hereis where you can get more details: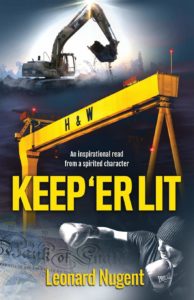 All the proceeds from the book are going to a homeless charity in Crawley (Sussex).